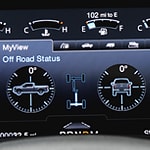 Whether towing and hauling heavy cargo, you need a pickup truck capable of hanging strong when the battles get tough. Those "battles" can refer to driving on difficult terrain or dealing with challenging environments. The incredibly popular Ford F-150 represents one of the heaviest of heavy-duty trucks on the market.
The high-strength steel frame contributes to the vehicle's all-around toughness. A steel frame doesn't deliver invulnerability, but it does provide greater durability than ones made from other materials. The unique 12-sided design also brings out the best in manufacturing. And the special aluminum-alloy bed does, too.
The pickup box fits a variety of smart features such as LED lights, a remote tailgate release, and more. Expand how the bed works and find many jobs using it become a bit easier.
Do you want to see how the amazing Ford F-150 pickup truck handles around Rexburg, ID? Find out through a test drive at Woody Smith Ford, today.