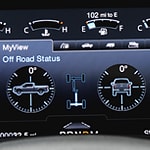 You have a duty to yourself to invest in a vehicle that matches your needs as a driver. There are plenty of factors to consider and only you know exactly what you want from your automobile. We at Woody Smith Ford are here to help you understand the various features that are worth getting excited about within the Ford F-150.
Technology is something you will see in a modern truck. The days of trucks not having any available features in the safety and infotainment area are over. The F-150 has many available driver-assist features, including automatic high-beam headlights.
You're driving far away from Rexburg, ID en route to your friend's lake house in the country. It's dark and there isn't much visibility on the roads. The high beams will automatically turn on when lighting conditions aren't ideal and will automatically turn off when a vehicle is approaching. Available infotainment features include a Wi-Fi hotspot, navigation, and more.