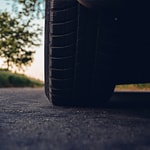 Winter tires provide a valuable benefit to drivers traveling around during the cold season. Switching the tires out for all-season ones might not be a priority for some car owners, though. Such a decision may prove regrettable since driving on winter tires all year may create some significant performance concerns.
Winter tires feature a design intended to improve traction in hazardous conditions. The tread depth and design intend to tackle snow and ice, not "normal" conditions or warmer weather. Driving on these tires from winter through spring and summer may wear them down much faster. Once worn, they require replacing. Replacing the tires ahead of schedule means added costs.
Traction might suffer when winter tires travel on hot summer Rexburg, ID roads. Poor traction might lead to decreased safety, which is not likely beneficial.
Woody Smith Ford wants to help car, truck, and SUV owners with tire care and replacement. Ask about winter and all-season tires in our inventory.