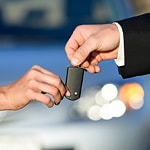 If you're experiencing hardship with your vehicle's expenses in Rexburg, ID, you might be considering trading in or refinancing your car. Woody Smith Ford is here to give you some critical information about the benefits of each option and how they differ from one another.
The choice between refinancing and trading in your vehicle depends on what you are looking to accomplish. If you want to keep your car while lowering your auto-loan payments, you'll want to choose to refinance. If you've determined that replacing your car will be more cost-effective, then trading in your vehicle is the proper option.
Refinancing can help you by lowering your interest rate and/or your monthly premium. You may be eligible for a lower APR if your finances or credit score increased since the start of your loan agreement. You can also extend your loan term to lower your monthly principle. Trading your vehicle can give you the opportunity to exchange your current car with a vehicle that has cheaper taxes, lower insurance rates, or better fuel economy. As such, this option can reduce the regular costs of ownership that you encounter with your car.