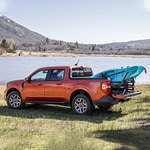 The Ford Maverick has many available technology features that keep you entertained. Drivers with HD Radio and satellite radio enjoy spending long periods on the road.
HD Radio
The Ford Maverick has HD Radio in the base model that gives you more programming options. It provides many channels using a high-quality signal. Buyers at Woody Smith Ford in Rexburg, ID are often impressed by the sound quality. It's ideal for families going on long road trips because there is something for everyone.
Satellite Radio
Satellite radio is an available feature for the Ford Maverick. There are many advantages, such as getting your favorite radio station no matter where you travel. You can drive across the United States without losing your signal when you have satellite radio. Many drivers enjoy this feature because there are no commercials, and you don't have to deal with static. You can listen to live sporting events and talk radio.